Let's Encourage Congress to Improve Stroke Care FAST
This article was originally published by the Huffington Post on February 15, 2016.
Let's Encourage Congress to Improve Stroke Care FAST
She thought she was choking.
It was June of her first year as a member of the Ohio House of Representatives. Joyce Beatty had just returned to her office following a luncheon when she felt her throat shut down. She couldn't swallow, couldn't talk. Couldn't cry for help.
As she reached for water, her left side went numb. She collapsed. Someone called 911, thinking it was a heart attack.
It was a stroke. Specifically, a brain stem stroke.
The brain stem is a precarious spot -- a half-inch wide area that controls basic activities like consciousness, blood pressure and breathing. A stroke there could harm any of those functions. Or ruin all of them.
Beatty was lucky. Because she was rushed to a hospital and treated by doctors who quickly determined the source of the problem, she escaped the worst of the worst. Yet the stroke still took its toll.
She spent a month in the hospital and several more in rehabilitation. It was six months before she began feeling like her old self, nearly a year before she truly was.
Walking was her biggest obstacle. Told she may never do so again, her reaction was to try twice as hard. Literally. When told to do two hours of physical therapy, she did at least four. Although she left the hospital in a wheelchair, she was soon on her feet. She celebrates her recovery by regularly wearing 2-inch heels.
Beatty's stroke occurred in 2000. She's now in her fourth year as a member of the U.S. House of Representatives. Of those 435 legislators, she's the only known stroke survivor.
Beatty always has been a groundbreaker. She was first in her family to go to college, the first female to represent her Columbus district in the Ohio House and the first female Democrat to lead the Ohio House. Alas, she's a follower in terms of her family's health history.
All four grandparents died of complications from cardiovascular diseases, either stroke or heart attack. At the time of her stroke, she was being treated for high blood pressure and later learned she had high cholesterol, too.
Beatty was 50, which she thought was too young to be stricken. She's since learned so much more about the disease, both from experience and through her devotion to fighting it. I'm proud to say she's become a passionate supporter of my organization, the American Heart Association/American Stroke Association, getting behind our Go Red For Women movement since its inception and recently spending several years on our national board of directors.
Last year, U.S. Rep. Beatty co-sponsored a key piece of legislation called the "FAST Act." While we use that acronym to help identify the warning signs of stroke (if you see Face drooping, Arm weakness or Speech difficulty, it's Time to call 911), in this case the acronym stands for Furthering Access to Stroke Telemedicine.
This Act would provide Medicare reimbursement for treatment via telemedicine when a stroke patient begins their care in an urban or suburban hospital. Currently, Medicare only reimburses telestroke evaluations at rural hospitals. Yet, only 6 percent of all strokes begin care at rural hospitals. Thus, 94 percent of patients are denied this coverage for what could be their quickest evaluation. We believe that over 10 years, this policy change could save more than $1 billion in Medicare payments for rehabilitation and skilled nursing -- not to mention the physical and emotional agony for patients and their loved ones.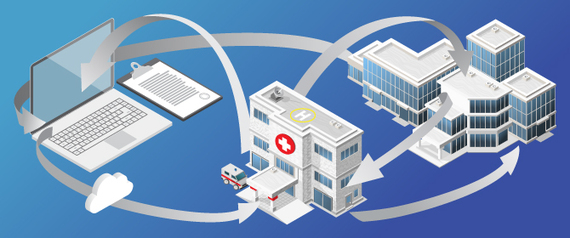 As American Heart Month continues, and as stroke thought leaders prepare to gather in Los Angeles this week for the International Stroke Conference, it is my privilege to turn this spot over to U.S. Rep. Beatty.
February is American Heart Month, a month-long initiative to raise awareness about the No. 1 killer in women and men: heart disease. Each year, this accounts for one in four deaths in the United States. It is important we talk to our family and friends about heart disease risk factors and the benefits of living a more heart-healthy lifestyle, but it is as equally important we talk about the No. 5 killer of Americans -- stroke.
Like heart disease, stroke is responsible for hundreds of thousands of deaths each year. In fact, stroke is the leading cause of serious long-term disability. Scary. However, what is even more startling is the fact that heart disease and stroke cause one in three women's deaths annually -- that's more than all forms of cancer combined.
The statistics are even more troubling for the African-American community. Of African-American women ages 20 and older, 46.9 percent have cardiovascular disease. Yet only 43 percent know that heart disease is their greatest health risk. Additionally, almost 50 percent of African-Americans have high blood pressure, the leading cause of heart disease and stroke. Moreover, blacks are almost twice as likely of having a stroke and more likely to die following a stroke than whites.
I and many people across the country are no longer remaining quiet about heart disease and stroke.
Every year, on the first Friday in February, I proudly participate in Go Red for Women's Wear Red Day, a critical public awareness platform that the American Heart Association uses to help promote heart-healthy lifestyles among women. It is always great to be joined by my fellow Democratic and Republican women colleagues in this effort. Who says bipartisanship is dead?!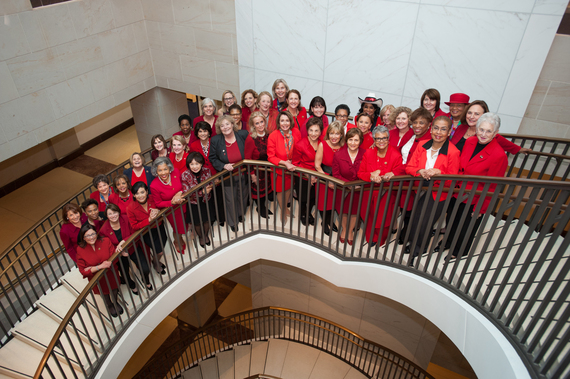 For many of us in Congress, it is personal. Our fight to prevent and support individuals dealing with heart disease and stroke transcends party lines and political differences. You too probably have a loved one who has been affected by heart disease or stroke. We all very likely know someone.
In my case, that person was me. That is why I decided to be a part of the solution, which is why I have teamed up with Congressman Morgan Griffith -- a Republican from the Commonwealth of Virginia -- to introduce the Furthering Access to Stroke Telemedicine Act, also known as the FAST Act (H.R. 2799).
The FAST Act, as the name implies, will help more stroke victims gain access to fast, high-quality care, commonly called telestroke. As a stroke survivor and member of the Congressional Heart and Stroke Coalition, I know firsthand how minutes can literally mean the difference between life and death. We need to make sure telestroke is readily available to more people, and we need to do it fast.
Currently, the FAST Act has the support of nearly four dozen lawmakers from both sides of the aisle. However, it has not come up for a vote. Help us get a vote on the FAST Act faster.
How?
Use your voice, do not stay silent. Jump on the phone, send an email or write a letter to your elected officials to demand they support the FAST Act. You have to do it fast because in the time it takes you to read this post another person will die from stroke.
Stroke does not differentiate between Democrats and Republicans -- it affects all of us. We must ensure more Americans not only survive, but have the opportunity to thrive post-stroke.
We need to pass the FAST Act. We need to do it fast.
To find your federally elected representatives, please visit the U.S. House of Representatives' website and U.S. Senate's website.